Dhaka Metro Rail Ticket Price Chart
Dhaka Traffic Coordination Authority (DTCA) has published the fare list of how much money will be required to move from one station to another station. The list was published by DTCA on 8th September 2022. Dhaka Metro Rail Fare 2022 Chart is now available.
In the first phase, the metro rail will start running in December, the fare from Uttara North Station (Diabari) to Agargaon Station will be Tk 60. There are seven more Metrorail stations in between. The fare of Uttara-North Station to Uttara Center and Uttara-South Station is Tk. 20. More over, the fare from the first station Uttara North to Pallabi and Mirpur-11 stations is Tk 30, the fare to Mirpur-10 and Kazipara stations is Tk 40 and the fare to Sheorapara station is Tk 50.
Road Transport and Bridges Minister said that the minimum fare for metro rail travel was Tk 20 and the maximum fare for travel from Uttara to Motijheel station was Tk 100.
The fare from Pallabi to Mirpur-11, Mirpur-10 and Kazipara is Tk 20. The fare from Pallabi to Sheorapara and Agargaon is Tk 30. Fare of Mirpur-10 to Farmgate is Tk 30 and Karwan Bazar is Tk 40 Tk. The fare from Mirpur-10 to Shahbagh and Dhaka University is Tk 50. It will take 60 tk to go from Mirpur-10 to Sacibalay and Motijheel. And to go to Kamalapur, you have to pay an additional 10 tk that is 70 tk fare.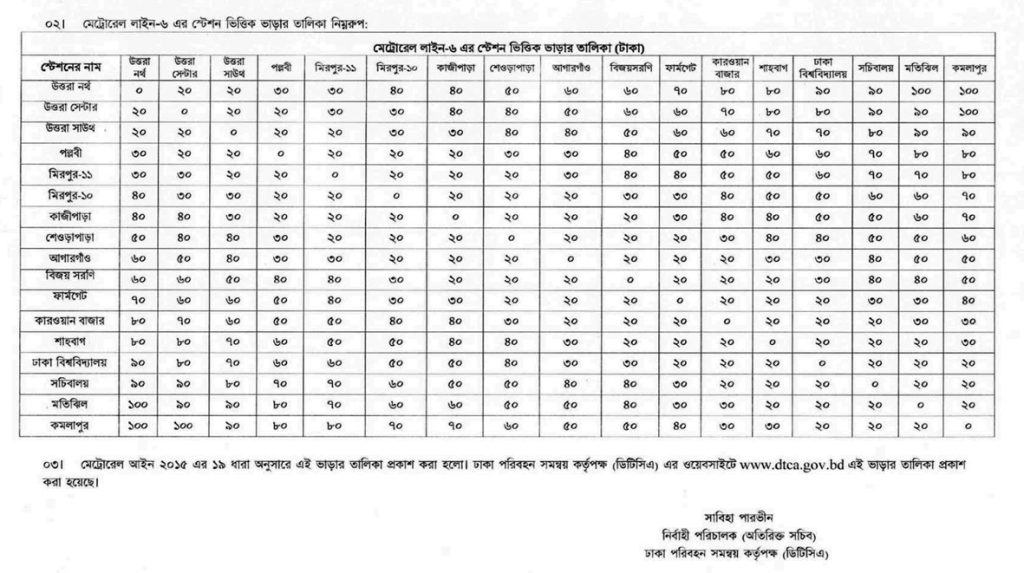 Download Metro Rail Ticket Price Chart
Download Dhaka Metro Rail Fare Chart in PDF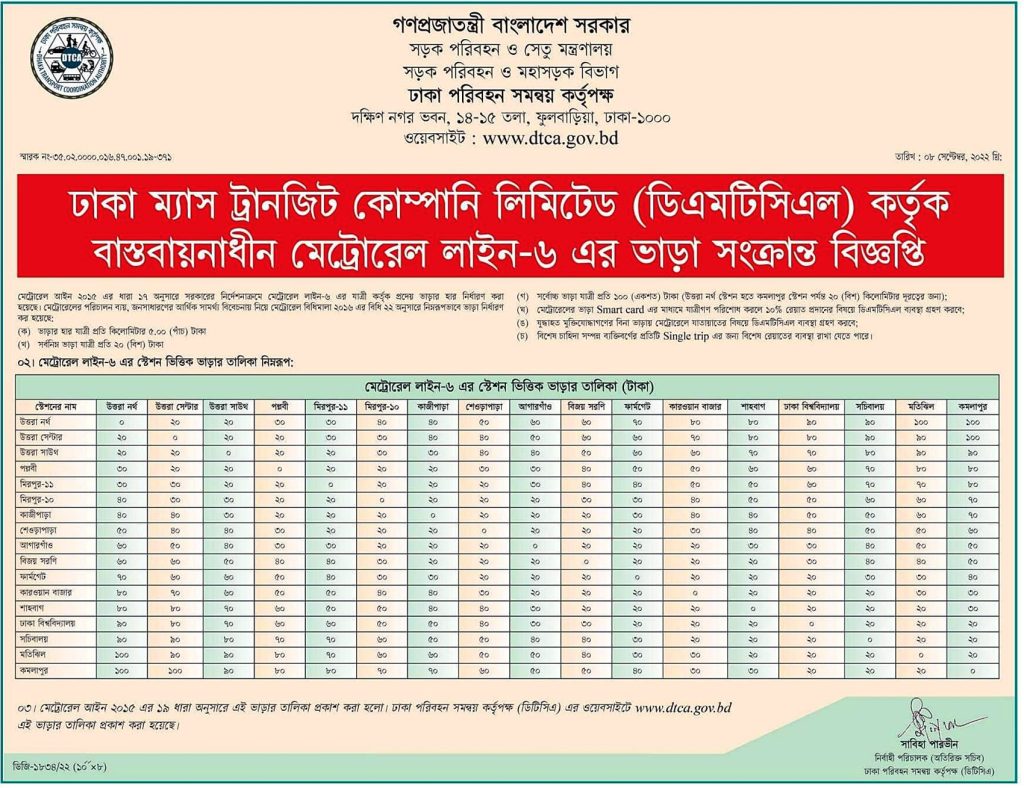 If anyone get off from Farmgate and get off at Kawran Bazar, he has to pay a minimum fare of Tk 20 from one location to another location. However, he can go to Shahbagh Station and Dhaka University Station with same fare. And the fare from Farmgate Station to Sacibalay Station and Motijheel Station is Tk 30 and Kamalapur Station Tk 40.
On the other hand, the fare from Kamalapur to Dhaka University station is 20 taka. The fares of the two stations in between Motijheel and Sacibalay are also the same. And from Kamalapur , the fare is tk30 to Shahbagh and Karwan Bazar, Tk 40 to Farmgate, Tk 50 to Vijay Sarani and Agargaon, Tk 60 to Sheorapara, Tk 70 to Kazipara and Mirpur-10 , Tk 80 to Mirpur-11 and Pallabi and Tk 90 to Uttara South.
Moreover, Dhaka Mass Transit Company Limited (DMTCL), which is responsible for the operation and maintenance of the metro rail will be provide 10 percent discount if the fare is paid by smart card.
Company sources said weekly, monthly, family cards have to be purchased in advance to travel on Metro rail. The metro rail smart card can also be recharged at the machines located at every metro rail station. Another card is temporary, which will be issued per journey. This card has to be collected from the station with the specified destination fare. It is also like a smart card. The door will not open with this card if you travel in excess of the fare. In that case, you have to pay extra rent to the officials in charge and leave.
Construction of 20.10 km metro rail from Uttara (Diabari) to Motijheel is going on. Although it was announced that the metro rail will start from 16th December 2022, initially only the metro rail will run from Uttara Station to Agargaon Station. The Metrorail project was supposed to be completed fully in June 2024, but it has been extended to December 2025.
Some people argued this fair too costly for the middle class people where some people accept is a an opportunity to avoid traffic jam in the Dhaka City.
Source: Based on Prothom Alo News
Share