Surokkha Covid19 Information Correction Form
Download Surokkha Covid19 Information Correction Form for Vaccine Card and Certificate
People of Bangladesh has registered for Vaccine through Surokkha.gov.bd or SUROKKHA App . During registration a user has to submit several information based on their NID, Passport or other approved valid documents. A mobile number has been tagged with the account by which the user received OTP for downloading COVID19 or Corona Vaccine Card as well as Certificate after completing each dose of vaccine.
Some people has faced problem after registering due to change of mobile number or other information. And in Surokkha Website or App has no option for changing personal information till now. But recently the authority has published a form by which user or people can update or correct their personal information in a prescribed form.
If you have taken 2 doses of vaccine, but 1 dose is shown online, then contact the IT Branch of the concerned Vaccine Center or Upazila Health Complex for solution.
To correct other information such as mobile number, name of applied vaccine, passport number etc. you have to fill up the form and sign it. After that you have to scan the form including NID, Vaccine Card and other require documents and send it to the email address: [email protected]
Surokkha BD COVID19 Information Correction Form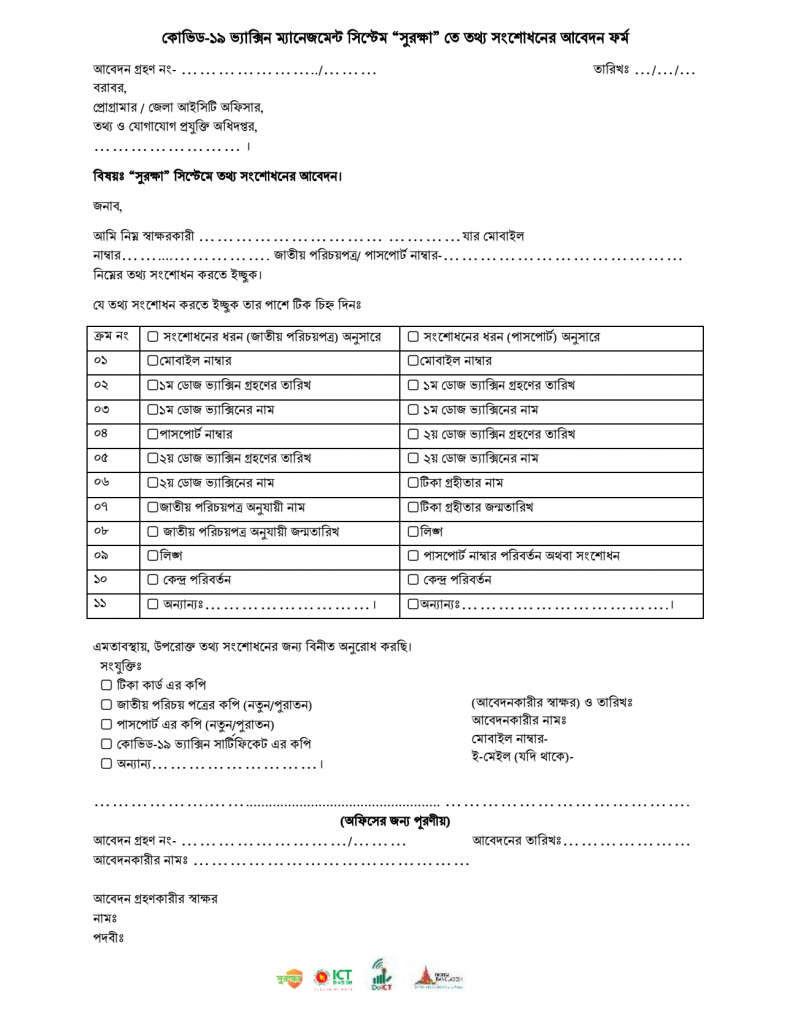 You can download the form in PDF format from the DOWNLOD Link
Download Surokkha Corvid Correction Form



Surokkha official Site Link: surokkha.gov.bd
Corona Update from our site: BD COVID19 Update
Share