Sr. Executive/Assistant Manager : Summit Communications
Sr. Executive/Assistant Manager, Corporate and Regulatory Affairs at Summit Communications Ltd.
Summit Communications Ltd. has published a job circular for the position of Sr. Executive/Assistant Manager.
Summit Communications Limited (SComm) is the largest Telecommunications Infrastructure Company in Bangladesh with over 47.000 kilometers of high quality fiber Optic Network & voice/data Gateways. SComm covers the whole country with its state of the Art Network coverage. We have been able to emerge as a leading infrastructure operator in terms of financial growth. operational performance and talent acquisition.
Job Description:
Job Title : Sr. Executive/Assistant Manager
Unit : Right of Way (RoW)
Department : Corporate and Regulatory Affairs
Key Accountabilities:
Building relation with external stake holders. Representing company objective and position in external relations (BTRC. Ministry. Govt. agencies. Law enforcement agencies) through providing observations according to the management decision.
To build and maintain effective relationships with key external stakeholders in order to ensure the conveyance of the Company/MGT priorities while enhancing the Company's performance. reputation and image.
Arranging road cutting permission from DNCC. DSCC. RHD. LGED & pouroshava.
Determine the structures. roles and processes required to deliver services in line with corporate priorities and ensure that appropriately skilled and motivated resources are deployed so that corporate and service objectives are met.
Coordinating with the internal stake holders to work together for making the payment and submitting the reports as per compliance rules set by the regulators.
Internal co-ordination for inter-departmental tasks to derive or maintain the compliant environment that represents the company's status to the external regulators.
Required Experience:
Minimum 3 to 5 year experience in working with BTRC. DNCC. DSCC. RHD. LGED & Pouroshava (for Corporate & regulatory Affairs).
Academic Qualification:
Graduation from any reputed university or college.
Preference:
Excellent English writing skill. In addition Bangla writing and typing skill will get preference. Knowledge and Skills:
Expertise in Microsoft Word. Excel & Power Point.
Extensive travel mind-set required.
How to Apply: Interested candidates are requested to send their updated CV within June 17, 2022
mentioning Sr. Executive/Assistant Manager – Corporate and Regulatory Affairs in the subject line to the following email address: [email protected]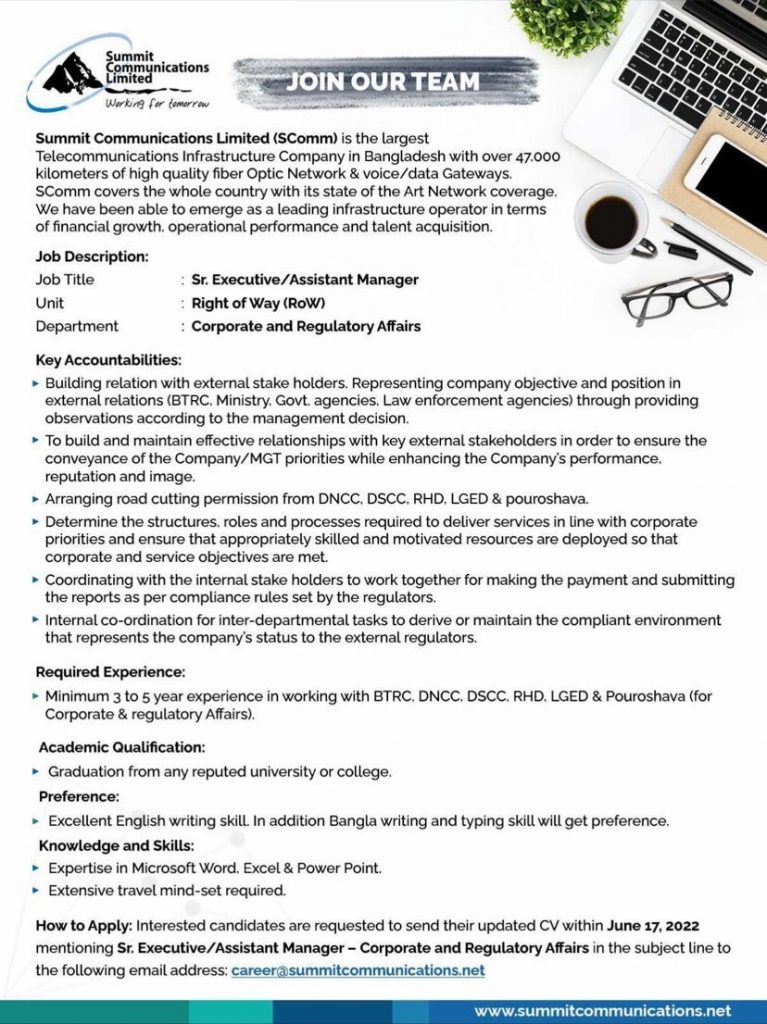 Share