HSC Routine 2023 – All Education Board in Bangladesh
The routine for this 2023 Higher Secondary (HSC) and equivalent examinations has been released. Dhaka Secondary and Higher Secondary Education Board released the routine recently. However, the exam is starting from August 17, 2023 (Thursday).
Important Notes for HSC Examination 2023
HSC Exam of 2023 will Start on 17 August 2023.
Total Exam Duration 3.00 Hours
MCQ Time: 30 Minutes
Written Exam Time: 2 Hour 30 Minutes
The Higher Secondary Certificate (HSC) exam in Bangladesh is one of the most significant exams in the country. It marks the end of a student's secondary education and paves the way for higher studies. In Bangladesh, the HSC exam is administered by the Education Board.
The HSC exam is held every year in April and May, and it lasts for around a month. But recently the date has changed due long long study gap during COVID19 pandemic. It is usually divided into three groups, namely science, commerce, and arts. The HSC exam has a total of 13 subjects, and students are required to take at least six of these subjects. The subjects include Bangla, English, mathematics, physics, chemistry, biology, accounting, economics, history, Islamic studies, and more.
The HSC exam is highly competitive, with hundreds of thousands of students taking the exam each year. Students are expected to perform well to secure admission to reputed universities in Bangladesh. The exam is also crucial for students hoping to secure scholarships to study abroad.
The exam consists of theoretical exam and practical exam The theoretical component is divided into multiple-choice questions, short-answer questions, and long-answer questions. The practical component is a test of a student's skills in the laboratory, where they are required to perform experiments.
To prepare for the HSC exam, students often attend coaching classes or tuition. They also study from textbooks and solve previous years' question papers. Students are encouraged to study regularly and revise their syllabus thoroughly before the exam.
Overall, the HSC exam is a crucial milestone for students in Bangladesh. It requires dedication, hard work, and perseverance to do well in the exam. However, success in the exam can open up a world of possibilities for students, including admission to reputed universities and opportunities for higher studies and careers.
The HSC Exam routine contains routine of Dhaka Board, Chittagong Board, Rajshahi Board, Jessore Board, Sylhet Board, Cumilla Board, Dinajpur Board, Rajsahi Board.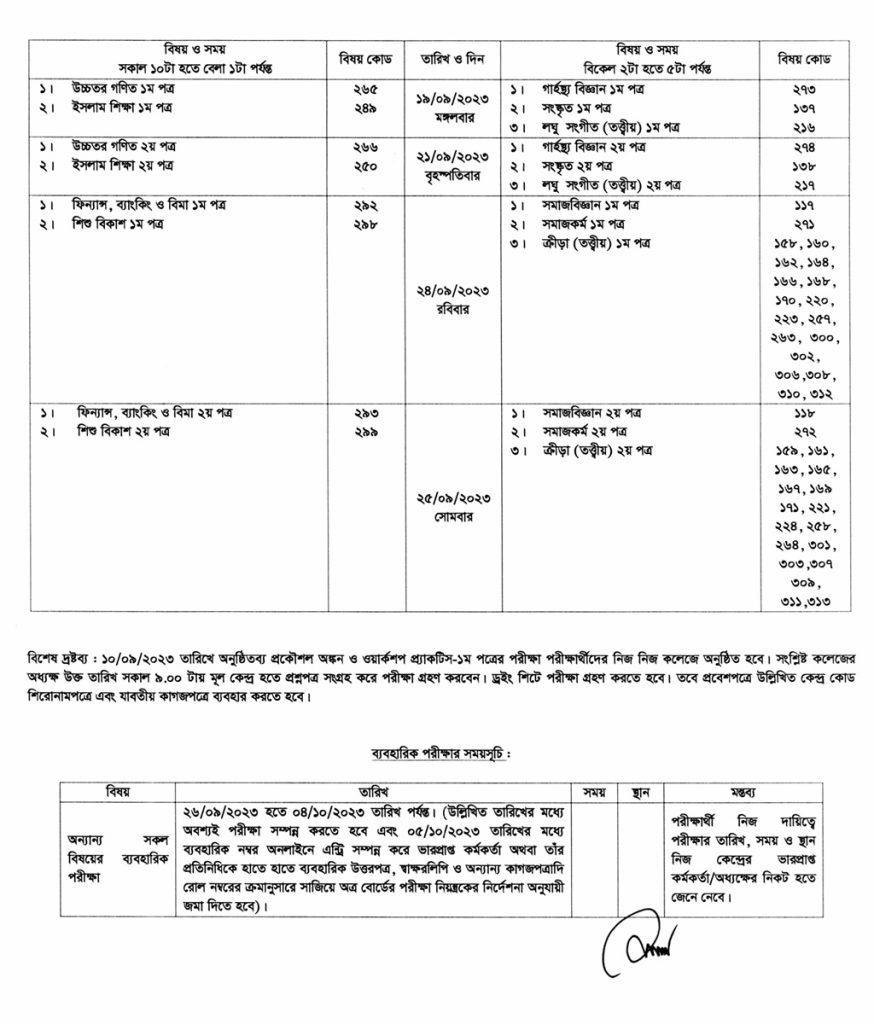 Download HSC 2023 Routine Page 1
Download HSC Exam Schedule 2023 Page 2
Download HSC 2023 Exam Routine PDF
with Practical Exam Date
For Dhaka Board HSC Official Notice: Dhaka Education Board HSC Corner
2023 সালের উচ্চমাধ্যমিক সার্টিফিকেট (HSC) পরীক্ষার সময়সূচি
Share